Did you know that Canadians spend more than $250 million a year on cleaning products? There is a huge demand, but as consumers become more aware of what the conventional ingredients can do to us, more are turning to chemical-free products. The trend is especially relevant for cleaning products designed for specific areas we use every day, like the bathroom. 
Luckily, we live in a time with many chemical-free products! If you want to find an alternative that works for you, check out this list below for today's essential products. The best part is that these options are all-Canadian, too.
Attitude Living
Attitude Living is a Montreal-based company that makes plant-based cleaning products. Many of Attitude's products, like their laundry detergents and surface cleaners, are hypoallergenic and only use ingredients made from plants and minerals. 
They also test every cleaning product in an independent lab to ensure that every batch is without chemicals like 1,4-dioxane and ethylene oxide. All their products rate highly on the Environmental Working Group's scorecard, an independent organization tracking chemical safety.
Nature Clean
One of the most popular "green" cleaning companies in Canada, Nature Clean's complete line is gluten-free, vegan, and biodegradable, making it suitable for septic tanks. They've been around since 1963, but the current popularity of chemical-free bathroom cleaners has allowed them to expand their line of products.
After all these years, this company has committed to using ingredients from plants and minerals, even in unique ways! One example is Nature Clean's Toilet Bowl Cleaner. The company adds Australian tea tree oil and thyme oil for added antiseptic and disinfectant properties, which has the added benefit of smelling fantastic!
Nellie's
Nellie's made their name with a popular line of laundry products, but their other cleaning supplies are great, too! Every product they offer is free of harmful toxins, phosphates, and synthetic fragrances. They are biodegradable, too, making their cleaners good for the environment! Try their Floor Cleaner on your bathroom floor; it does not leave a residue behind, and even if you dilute it with water, your tile or vinyl will shine like never before. 
DIY Supplies!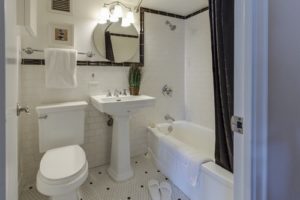 One type of cleaning supply is becoming essential additions to bathroom sanitation arsenals across the country: do-it-yourself cleaning products! It's a great way to control what you put on the surfaces in your bathroom, ensuring that you don't use a chemical that you'd prefer to avoid. 
For every room you're cleaning, you can combine baking soda, vinegar, fresh citrus oil, and castile soap in ways that make bleach, ammonia, and all those other strong-smelling, harsh ingredients obsolete. 
Why Choose Chemical-Free Bathroom Products?
The chemicals in many conventional bathroom cleaning products can affect your health and the environment. The most obvious effect is the one you can smell: many conventional cleaning products give off volatile organic compounds or VOCs. The VOCs linger in the air, exacerbating health issues like asthma and causing new ones. 
It's not just indoor air that becomes polluted – as you wash the chemicals down the drain, they get into our waterways and ecosystems. By choosing chemical-free products, you can make your home a healthy and safe place to enjoy while also protecting the environment!